1200°C Single-Zone Split Tube Furnace With 50mm OD

LITH-50mmfurnace portable split tube furnaces feature spiral wire coils embedded in Mitsubishi (Japan) alumina fiber insulation. A double walled steel internal housing helps minimize heat loss to exterior surface. Furnace operation is controlled by a 30-segment digital controller. All our furnaces are CE compliant.
Features
1.Compact, portable and lightweight design.
2.Split furnace chamber for fast and easy tube access.
3.Standard package includes set of stainless steel vacuum sealing flanges with valves and pressure meter.
4.Microprocessor based self-tuning PID control provides optimum thermal process with minimal overshoot.
5.Multiple atmosphere processes in a single cycle are possible (ex: binder burn out in air and parts sintering under rough vacuum or inert gas environment.)
6.Long life type K thermocouple.
Tube size

50mm OD x 700mm length
It can be customized

Maximum working temperature

1200°C

Constant working temperature

1100°C

Minimum working temperature

Ambient

Constant working temperature under vacuum

1000°C

Rated vacuum pressure

0.001 Pa / 0.0075 millitorr / 0.00001 mbar

Rated positive pressure

0.02 MPa / 150 torr / 3 psi

Heating element type



Resistance coil wire

Thermo couple type

K

Refractory lining

Mitsubishi (Japan) 1500 grade fiber alumina

Temperature controller

Single PID, 30 segments

Maximum heating & cooling rate

< 30°C / min

Heating zone length

8"

Constant temperature zone length

3"

Temperature controller precision



+/- 1°C



Vacuum sealing flange kit

Stainless steel vacuum sealing flanges with one vacuum gauge,
two valves and four thermal ceramic blocks.

Electrical requirements



110VAC, 50/60 Hz single phase, 1500 watts



Gas inlet/outlet



1/4" hose barb with 1/4" BSPT (British Standard Pipe Thread)



Unit dimensions



27 x 13 x 16" (WxDxH)



Unit weight

55 Lb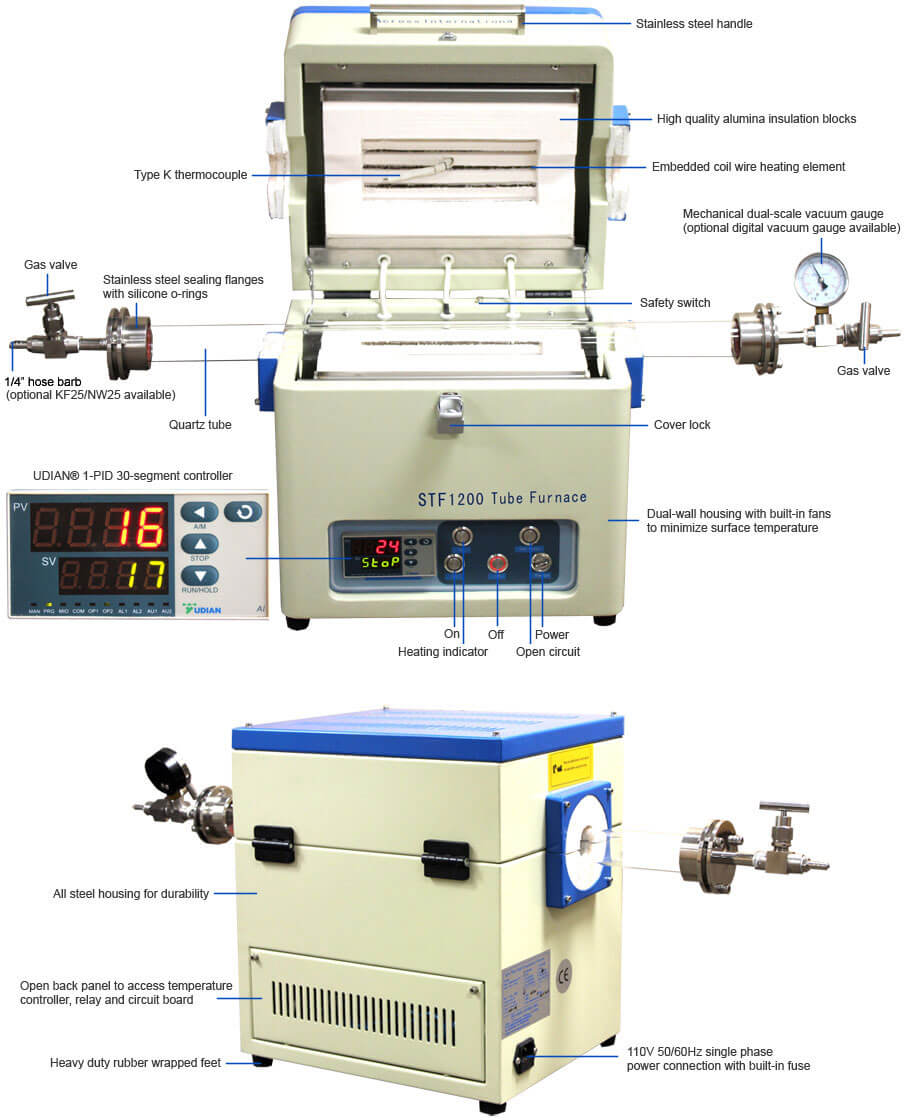 Coin Cell Process:
Materilas → Powder Processing →Powder Grinding Mill → Vacuum Mixing → Electrode Coating → Roll Press → Vacuum Drying → Disc Cutter → Electrolyte Injection → Crimping Machine → Battery Analyzer
For the coin cell Assembly, we also recommend you the following items: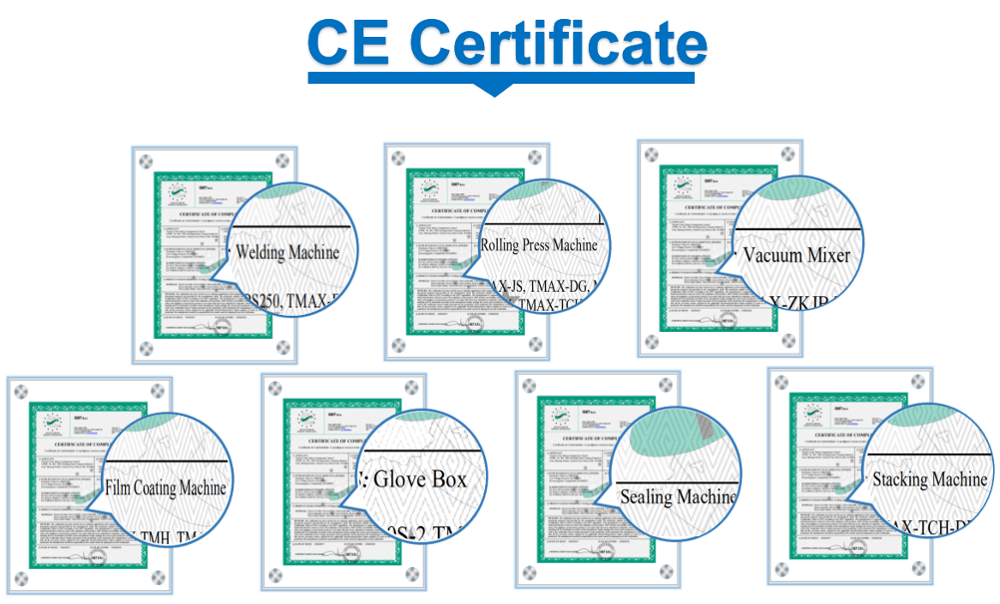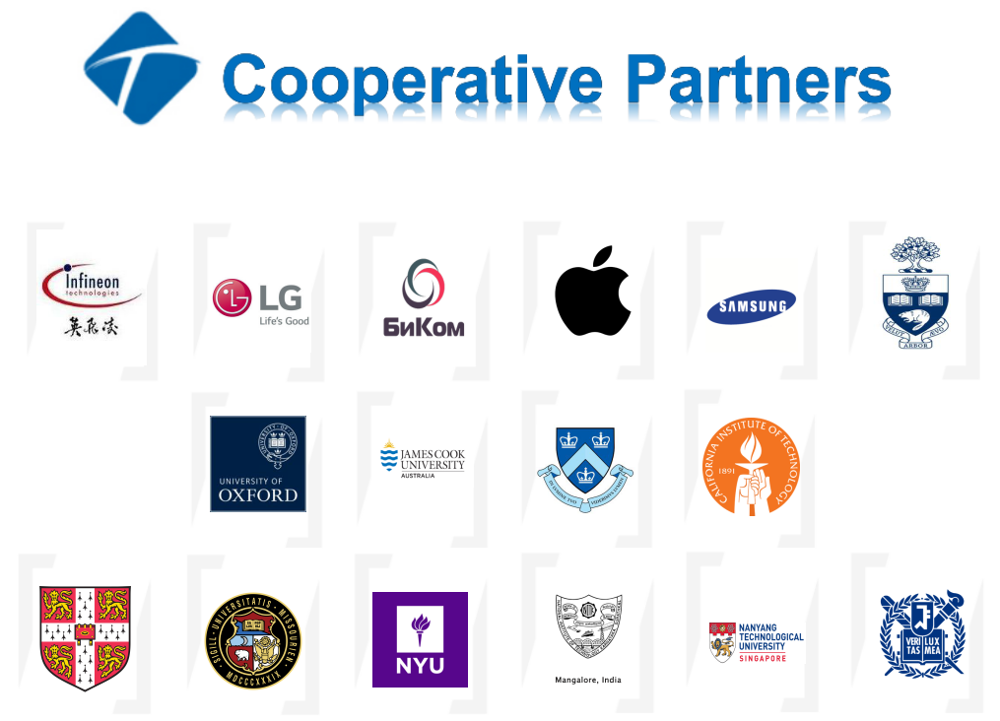 PACKAGE:
1 Standard exported package: Internal anticollision protection, external export wooden box packaging.
2 Shipping by express, by air, by sea according to customers' requirements to find the most suitable way.
3 Responsible for the damage during the shipping process, will change the damaged part for you for free.
DELIVERY TIME:15-20 days after confirming the order, detail delivery date should be decided according to
production season and order quantity.