Battery Integral Dry Room
1.1. Purification requirements of each section:
| | | | | | | |
| --- | --- | --- | --- | --- | --- | --- |
| Dehumidification area | Area(㎡) | Height(m) | Volume(㎥) | Temperature(℃) | Dew point(℃) | Person |
| Dry room | 18 | 2.1 | 37.8 | 25±3 | ≤-40 | 3 |
1.2 Site requirements
1. The user provides water, electricity and air source to the unit connection as required. The user is responsible for the primary power distribution to the distribution cabinet of the dehumidification unit, ceiling air conditioning unit, refrigeration unit and water pump. The tap water is connected to the make-up point of the equipment, and the pipeline (supply air, exhaust air, return air, chilled cooling water) is connected to the interface of the dehumidification air conditioning unit and the water chiller.
2. The user is responsible for the production of cement foundation of the equipment.
2. List of dehumidification and temperature control equipment:
2.1 list of regional equipment specifications
| | | | | | |
| --- | --- | --- | --- | --- | --- |
| NO. | Equipment name | Supply air volume(m³/h) | Unit model | Qty. | Area used |
| AHU-1 | Rotary dehumidifier unit | 3700 | TMAX-3700SCH | 1 | Drying room |
3. Calculation basis for selection design:
3.1. Design parameters of fresh air for users in summer: in order to improve the stability of the system, the outdoor design parameters are taken as the parameters of bad working conditions, the dry bulb temperature is 35 ℃, the relative wet bulb temperature is 75%, and the absolute moisture content is 27g / kg;
3.2. System load: light labor intensity produces heat (80-100w/h. person); the comprehensive heat load of the enclosure structure is calculated at 60-110 w/m2 according to the system layout and indoor heat source, with a height correction factor of 2%, equipment The heat load is calculated by 10%-20% of the installed power according to the type;
3.3. Humidity production: when the temperature is 23℃, the humidity production of personnel with light labor intensity is (80-100g/h.person); the ventilation and humidity load of the air-conditioned room is calculated according to the air-conditioning room's 0.1-0.2 air exchange permeability; return air The moisture penetration load is calculated based on the return air volume 1%-3% of the ventilation penetration volume; the ventilation moisture load of the low-humidity dry room is calculated based on the moisture production volume of 2-5g/m2 in the air-conditioned room;
3.4. System air volume: fresh air volume (20-50m3/h. person) and maintaining positive pressure in the room require 5-10 Pa in the drying room; ensure the humidity gradient of the drying system.
4. Unit selection parameter table and system flow chart:
4.1 air conditioning system selection design calculation table scheme:
1. Main equipment type selection design calculation table: (see the description of technical proposal for design basis)

No.

Regional classification

Constant temperature and humidity area

0

Dehumidification unit no

AHU-1

1

Name of workshop

Drying room

2

Area (M2)

18

3

Ceiling height (m)

2.1

4

Volume (M3)

37.8

5

Temperature and humidity requirements

T≤25℃ dew point≤-40℃

6

Infiltration load of ventilation system (g)

261

7

Enclosure heat load of drying room (W)

3102

8

Design air volume

3700

9

Equipment model

JD-3700SCH

10

Design ventilation rate

97.9

11

Design dehumidification capacity (g / h)

261

12

Design heat removal (W)

3102

13

Supply air temperature and dew point

13℃

14

Air volume

CMH

Fresh air volume (CMH)

600

Dehumidification air volume of runner

4200

Regeneration air volume (CMH)

500

Supply air volume (CMH)

3700

15

Equipment energy consumption

KW

 

Regenerative heating power (kw)

25

Regeneration fan power (kw)

0.75

Treatment fan power (kw)

3

Motor power of runner drive (kw)

0.13

Total power in summer (kw)

29

16

Cooling load (kw)

41.7
4.2. System flow chart:
AHU-1 selects the LITH-3700SCH system flow chart of the runner dehumidification unit:
Note: The runner dehumidification unit is composed of: primary filter section, front stage cooling section, runner dehumidification section, rear cooling section, blower section, regeneration system, control system and refrigeration system.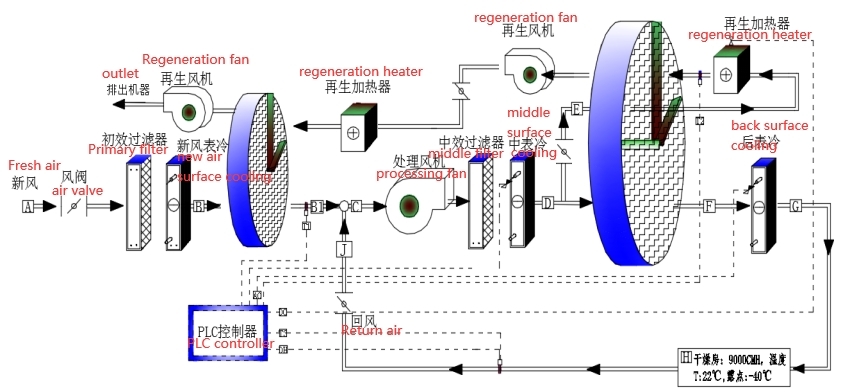 6. Parts list
6.1. List of main components of the rotary dehumidification unit:
| | | | |
| --- | --- | --- | --- |
| Unit parts | Material introduction | Brand | Specification |
| Imported dehumidification runner | Adopting Swedish PROFLUTE and American high-quality silica gel molecular sieve or molecular sieve composite runner; the runner has a hygroscopic agent sizing rate of up to 82%, strong moisture absorption capacity in a low temperature and low humidity environment, high temperature resistance strength, and long service life. | custom made | Front runner silica gel / rear runner silica gel molecular sieve |
| Unit box, frame | Adopting the internationally popular modular anti-cold bridge design, high-quality double-layer color steel plate filled with polyurethane one-time foaming and shaping. Aluminum alloy profile frame, beautiful appearance, compact, excellent temperature and humidity insulation effect, no condensation. | Yizhong Aluminum | Box board inner and outer board 0.5mm color steel plate / box board insulation layer 30mm polyurethane |
| Surface cooler | The use of seamless copper tubes to expand and connect the clear water film corrugated aluminum fins has high heat exchange efficiency, low air resistance, and durable and reliable use. | LITH custom watch cooler (a set of fresh air/medium/rear cooler) | 15.88 copper pipe*0.5mm |
| Regenerative electric heating tube | U-shaped winding sheet stainless steel electric heating rod | LITH | 2KW input power |
| filter | It can be washed repeatedly and has a long service life. One use one preparation | LITH | Primary effect filter plate type G4/medium effect bag type F6 |
| Centrifugal fan | Centrifugal fan, high efficiency, low vibration, low noise, stable and reliable performance, insulation class F, protection class IP54. With overheat protection device | Zhaoqing Detong or equivalent | 6-35 series |
| Runner gear motor | Accurate gear engagement, no noise, long service life, with temperature control protection device. | Taiwan Dongli or equivalent | 5IK series |
| Runner chain | Automatic deviation correction, automatic adjustment of tension | LITH | / |
| Electrical control | The electric control adopts the original Siemens Schneider Electric. The system is equipped with multiple protections such as regenerative fan, runner motor, interlocking protection of runner stall and regenerative heating, and regenerative heating over-temperature protection; the cable is selected from the Jinlongyu brand. Integrated control, measurement, signal, protection, adjustment and other functions. | Kunlun Coast/Siemens | S7-200CN PLC/MCGS color display/3TB/F Siemens contactor/IC65 Schneider air switch |
| Internal structure | Cold rolled plate baking paint/spraying process production, corrosion resistance, aging resistance | /Schneider | 2mm galvanized steel sheet baking paint |
| Bottom surface water receiving device | 304 stainless steel plate | LITH | 2mm stainless steel |
| Water retaining device | Low resistance, light weight, corrosion resistance, aging resistance | LITH | 100mm hydrophobic wet curtain |
| Runner seal | The regeneration heating adopts VITRON high temperature resistant silicon fluorine rubber, and the circular arc seal of the runner adopts silicon rubber wear-resistant seal. The pressure difference between the treatment zone and the regeneration zone can reach 1200Pa to ensure the tightness. | LITH | Red silicone sealing strip (12CMX2.3MM) |
| Unit chassis | 14/6 channel steel welding, two asphalt paint spraying process | LITH | 14 / 6 channel steel |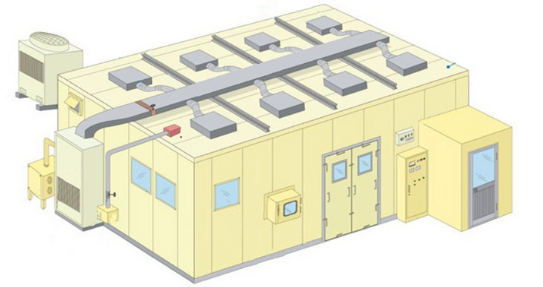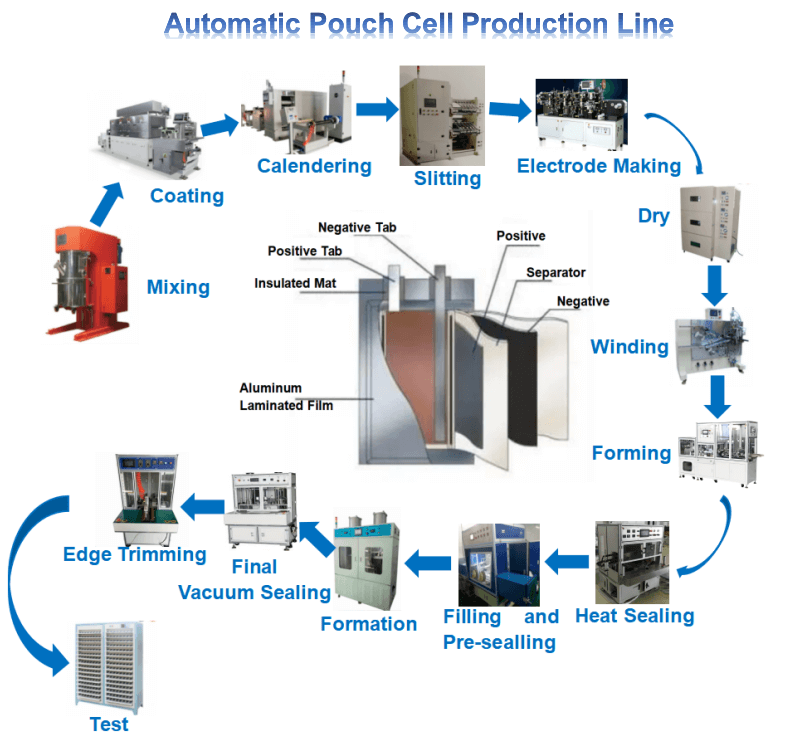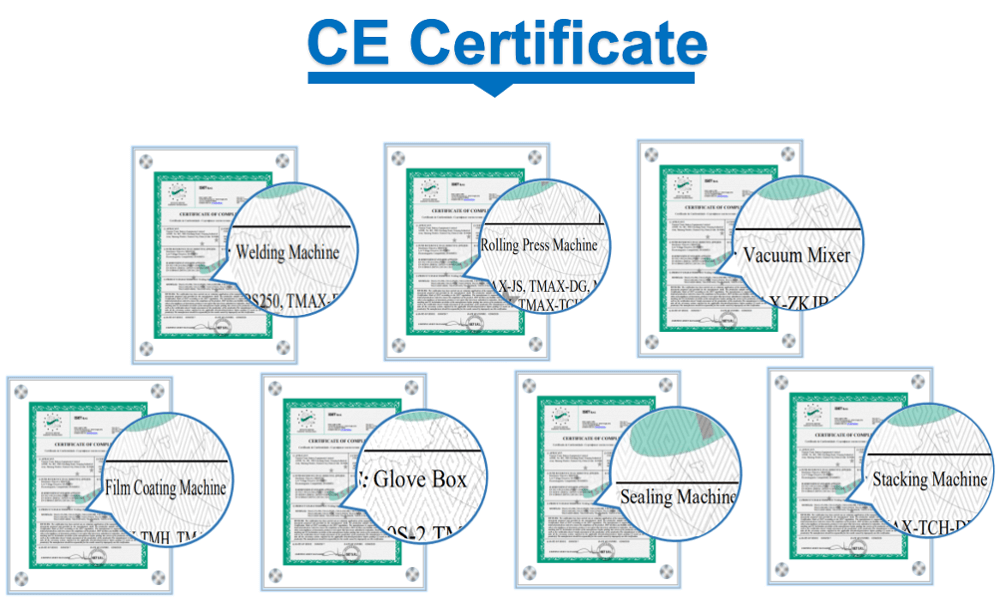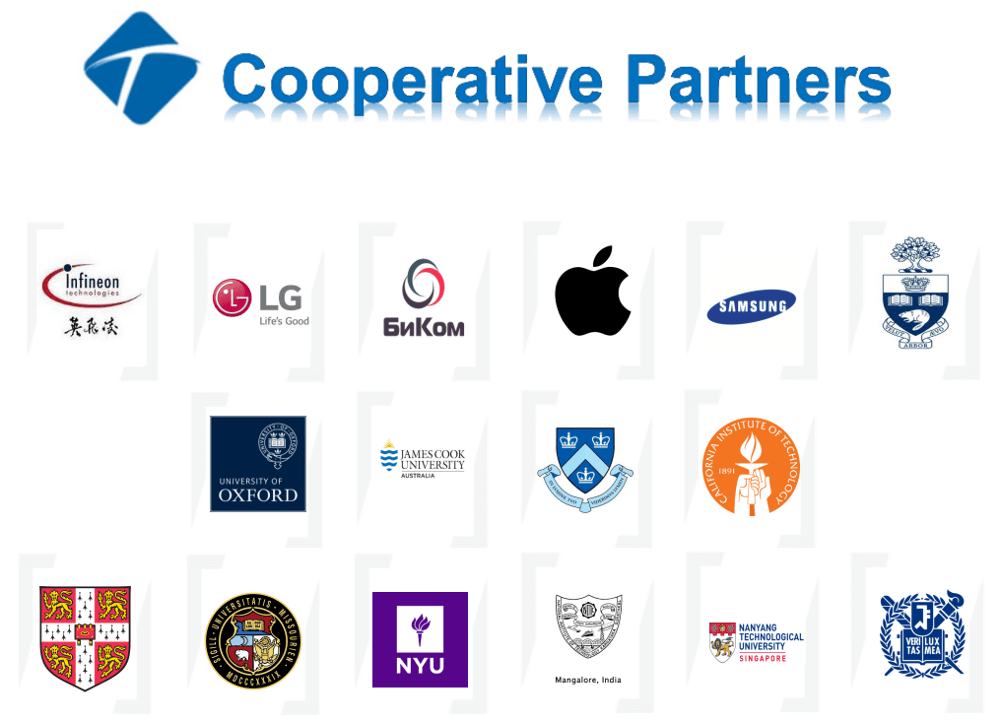 PACKAGE:
1 Standard exported package: Internal anticollision protection, external export wooden box packaging.
2 Shipping by express, by air, by sea according to customers' requirements to find the most suitable way.
3 Responsible for the damage during the shipping process, will change the damaged part for you for free.
DELIVERY TIME:15-20 days after confirming the order, detail delivery date should be decided according to
production season and order quantity.